I've been getting into photography lately and I'm always trying to compose better shots and what not. I shoot with a Nikon D3000 for digital and it's pretty user friendly, got to love it, but I'm definitely not the best photographer. That's why I tend to stick with film format, but unfortunately I don't know of any good processors in my area. Anyway, this is self portrait I took recently and thought it was worth sharing.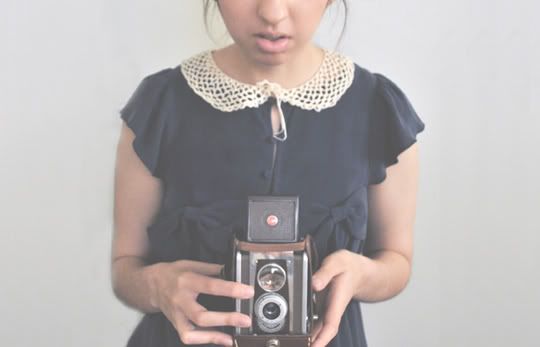 Once again my
peoplewebs
crocheted collar that I can't get enough of and this adorable dress I just got recently from
Steffy's Pros and Cons
. The camera is a Kodak Duaflex IV.
Also this weekend I went a little store crazy as I found an Ulta in my area just recently and a DSW right next door. Say bye-bye money. Here's my haul: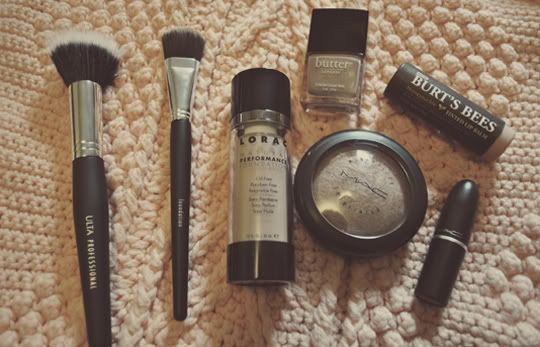 Above is a bag I got from DSW, I was a bit overwhelmed by the size of the store that I just stuck to the purses section. It looks very similar to the Mulberry Alexa bag, I would say. Before I explain my makeup haul, I really haven't updated my makeup routine/collection in such a long time so I felt like exploring a bit with new things. So from Ulta I got some Lorac Natural Foundation, which I tend to stick to powder for foundation but I rather like this and hear good things about it so we'll see. Two new brushes, highlighter and foundation, Butter London nail polish in Yummy Mummy, Mac's Mineralize Skinfinish in Soft and Gentle, Mac's Creme d'Nude lipstick, and Burt's Bees tinted lip balm in Honeysuckle.
So there you go, definitely upped my makeup routine by a few notches I'd say. Oh! and if you have had any of these products let me know how they worked out for you!