I've been such a bad blogger, I am slapping myself on the wrist metaphorically as I type this! I don't know how people can work and blog! As of right now, I'm swamped with work and tired as a little busy bee. I haven't been able to take many pictures as I would like, but I going to make time for it! Even if it is something random.
Anyways, I tried a new
recipe
by
Joy of Joy the Baker
. I love to bake anything, and I was trying to scrounge up a good recipe for something new to make and I thought, 'Hey, pretzels sounds mighty good!'. So I searched how to make soft pretzels and her site was one of the first to pop up. After browsing a bit I found how cute her blog was, not only are there fun and delicious recipes, but cute little random bits of her life. She also has videos that are super helpful that you can follow along with.
Here's my end result making pretzels!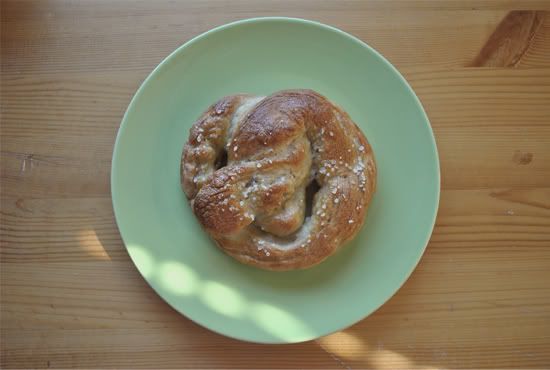 Here's her recipe if you want to make them yourself:
1 tablespoon sugar
1 (1/4-oz) package active dry yeast (2 1/2 teaspoons)
3 3/4 to 4 cups all-purpose flour
1 large egg, lightly beaten
2 teaspoons pretzel salt or grill seasoning
1 heaping Tablespoon baking soda (add it to the boiling water just before throwing in the pretzel dough!)
Stir together sugar, yeast, and 1 1/2 cups lukewarm water (105 to 110°F) in a glass measuring cup, then let stand until foamy, about 5 minutes. (If mixture doesn't foam, discard and start over with new yeast.)
Whisk together 3 1/2 cups flour and 1 tablespoon table salt in a large bowl. Add yeast mixture and stir with a wooden spoon until it forms a dough. Dust work surface with 1 tablespoon flour, then turn out dough and knead, gradually dusting with just enough additional flour to make a smooth sticky dough, about 8 minutes. (Dough needs to be somewhat sticky to facilitate rolling and forming into pretzels).
Return dough to bowl and cover bowl tightly with plastic wrap, then let dough rise in a draft-free place at warm room temperature until doubled in bulk, about 45 minutes. Turn out dough onto a clean work surface and cut into 8 equal pieces. Using your palms, roll 1 piece back and forth on a clean dry work surface into a rope about 24 inches long. If dough sticks to your hands, lightly dust them with flour. Twist dough into a pretzel shape. (Dough will retract as you form the pretzel.)
Transfer pretzel with your hands to an oiled baking sheet and form 7 more pretzels in same manner with remaining dough, spacing them 1 1/2 inches apart.
Let pretzels stand, uncovered, about 20 minutes. Meanwhile, put oven rack in upper third of oven and preheat oven to 425°F. Bring a wide 6-quart pot of water to a boil. Once boiling, add heaping tablespoon of baking soda. The baking soda will help the pretzels brown.
Using both hands, carefully add 2 (maybe 3) pretzels, 1 at a time, to boiling water and cook, turning over once with tongs, until pretzels are puffed and shape is set, about 3 minutes. Transfer parboiled pretzels to a rack to cool. Repeat with remaining 5 pretzels in 2 batches.
Line baking sheet with parchment paper and oil paper, then arrange pretzels on sheet. Brush pretzels lightly with some of egg and sprinkle with pretzel salt. Bake until golden brown and lightly crusted, about 35 minutes. Cool 15 minutes, then serve warm.
Cooks' notes:
• Dough can be mixed and kneaded in a standing electric mixer fitted with dough hook.
• Pretzels are best the day they are made. (When they are kept overnight, salt may dissolve.)
Until next time :)