It's been a long time since I've posted. I really have been trying to keep this up, but alas it just hasn't been working. Between work and school coming up I don't know what I'm going to do, no spare time at all! But I will post more pictures as I start taking more. I'm taking a film photography and a printmaking class this quarter and I plan on sharing all my projects and mishaps during it. I'm really excited for this quarter to start, just another step closer to get my degree. In other news it's my birthday Thursday! Turning the big 21, don't know how I feel about that. Just weird to think about. Getting older is weird, but it cannot be helped. Also! I got a tattoo! I'm super excited about it. I've been wanting one forever and I finally got it. The first of a few I'm sure. Sitting in the chair for two and a half hours wasn't as bad as I thought it would be. Definitely a pain I've never felt before, I wouldn't even go to say it was a pain just a weird vibration burning sensation. Anyway here's a picture of my fresh tattoo...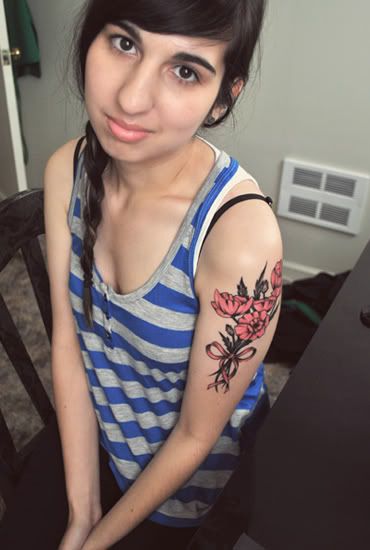 (slightly darker and more deep red in person though).
Hope you all are enjoying these last few days of summer!