So as I sit here surfing the web and catching up on shows, I thought I do a post on my crazy week. I know I haven't made a post in a bit, but I think everyone can relate to a hectic end of the quarter scenario. Anyway, like I said my week was nothing short of overwhelming and overwhelmingly satisfying. This is a bit word heavy, but you know it can't be explain otherwise.
My design class has gone full steam ahead as we reach the end of the quarter. With three projects overlapping each other, I've been nothing but busy. I think design students can relate when I say that our teachers can be a big set back as far as coming up with concepts and feedback, as they sometimes can give misleading and confusing direction. Which is what my teacher did with our most recent assignment. The assignment was to come up with a clever ad series, consisting of 2 ads from one brand. I chose Oreo, as I thought it would be relevant with their 100th anniversary and an open ended brand. But coming up with a clever concept was extremely frustrating for me. I had emailed my teacher and confronted him in class several times with no real response.
And this assignment in particular was going to be judged by 3 people outside of school and we were to "compete" for a prestigious and fictitious award made up by our teacher. So the heat was on and with the lack of any real response and mixed signals from my teacher it pushed me to my breaking point. I basically gave up and as the days passed, it soon became the day before it was due. I had no choice, but to do the concepts I had thought were my best. I created the below ads. I was the only one to use my own vector art, others opted to photoshop, but that's not really my strong suit.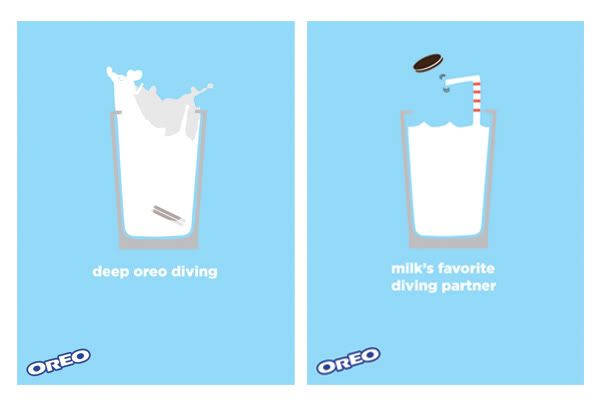 As each of my classmates presented their projects, I surely thought I wasn't going to win. Mine was the only illustrated one nor did I think my ideas were truly clever. Nonetheless, I won! I was pleasantly surprised, to say the least. It was kind of validating for me. I think it shows that I can really work under pressure and that my teacher isn't always right. Also to always follow my gut and my skills. I keep rethinking that moment, though the award wasn't really real, it was nice.
Here's me holding the coveted award. A random trophy, which now has an inappropriate name which I will spare you of.
Excuse my silly face! hah! Well there you have it, my feelings were all over the place this week. I'm just glad this quarter is almost over! Thanks for reading :)